The Balcony Box Membership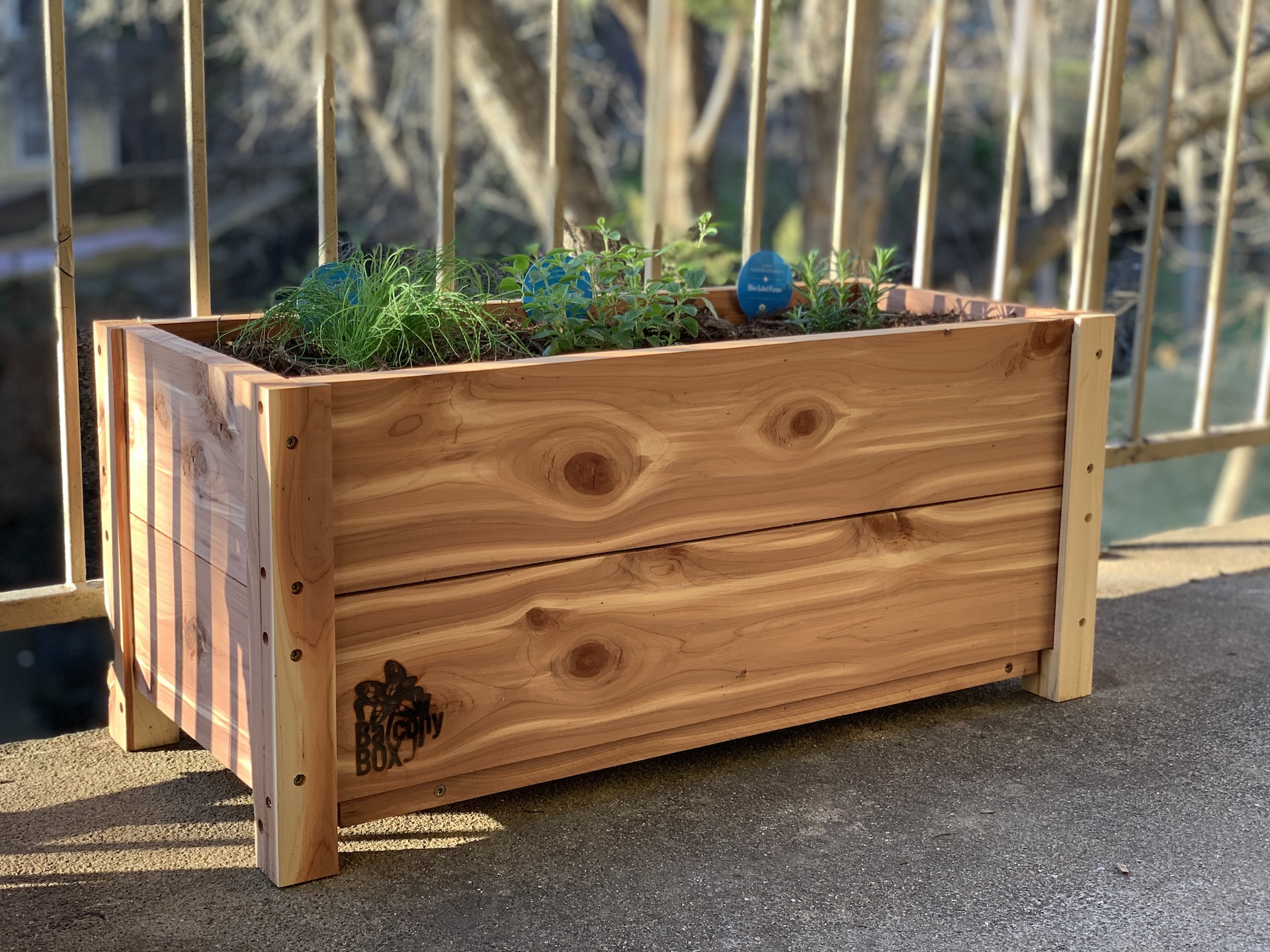 Join Balcony Box today
& learn to grow your own food. 
starting at only $25 / quarter
Your membership includes everything you need to be a successful container gardener. With the Balcony Box membership, we offer ongoing professional support, new plants every season, and bonus materials & care packages to help you up your gardening game!
We support you:
Unlimited access to gardening experts via scheduled Zoom calls or emails
A growing library of resources specific to container gardening in North Texas
Membership to a community of gardeners who share ideas and learn together

Access to members-only field trips & social events
Special members-only discounts & deals on classes and products
Ways you can join: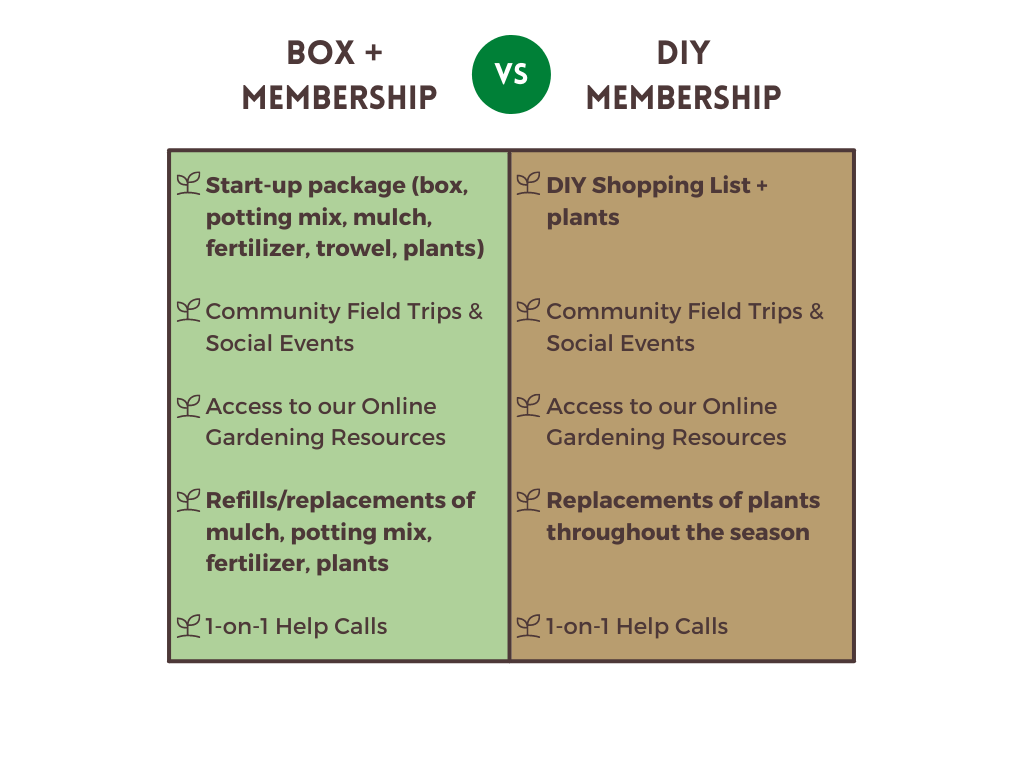 With our BOX + MEMBERSHIP package, we provide all the materials you need to get started, plus refills along the way. Here's a list of those materials!
Balcony Box: handmade of locally sourced Eastern Red Cedar, 12" by 12" by 31.5", 23 lbs
Potting Mix: organic and locally sourced from a minority-owned business
Mulch: made from Texas hardwood
Plants:

organic and locally sourced, may be delivered seasonally based on specific garden plans, to replace dead plants or provide interesting change in your box

Fertilizer: organic, vegan, and locally sourced from a minority-owned business

Garden Hand Trowel
If you want to DIY it instead, choose our DIY MEMBERSHIP, and we will give you a shopping list of recommended items to get your Balcony Box container garden started! With the DIY MEMBERSHIP, we will still provide 3 plants for you and replace those along the way as needed.
Interested, but have a larger space you want to fill with Balcony Boxes?
Check out our multi-box membership packages using the buttons below. 
Still not convinced? Here's the full story.
At Balcony Box, we desire to train self-sufficient gardeners equipped to grow their own food. This desire has grown from our personal experience - we started container gardening, ran into some issues, killed our plants, and almost gave up. Thankfully a connection of ours was there to give us some advice, we learned to use our mulch differently, and suddenly were successful. We've seen that story repeated over and over - people start, something goes wrong, they get discouraged, and they give up. We are here to change that!
By partnering with us in our membership, we will assist you along the way with any issues that arise to help you succeed as a gardener. Through your Quarterly Membership with Balcony Box, you will be supported by our team of garden experts and a community who are also gardening with Balcony Box to learn and grow together.
We teach our community to garden in containers in a way that is able to be replicated in the ground as much as possible, so our members are equipped to transition to larger gardens as their life stage allows it. One way we train is actually through having a quarterly membership. Each member renews their membership during one of the North Texas growing seasons, and along with that renewal we support them for the unique challenges of that season.
The North Texas Growing Seasons
Spring: March 1 - May 31
Spring's focus is supporting members as they plant their boxes and deal with unpredictable spring weather that can includes freezes, 100-degree days, and large downpours.

Summer: June 1 - August 31
Summer's focus is on sustaining plant life as Texas bakes in the summer heat. Members will be guided through how to water, how to build healthy soil or potting mix for moisture retention, and how to deal with pests. 

Fall: September 1 - November 30
Fall's focus is supporting members through the second major planting season in North Texas. This includes plant selection and the correct timing of when to plant.

Winter: December 1 - February 28
Winter's focus is on helping plants flourish as temperatures drop. This includes proper plant selection and assistance knowing how to deal with freezes and winter storms.
Each season is represented by a quarter of your membership, which is renewed every 3 months for $25. The membership may be cancelled at any time.